Tourism pamphlets
Last Update : April 1, 2021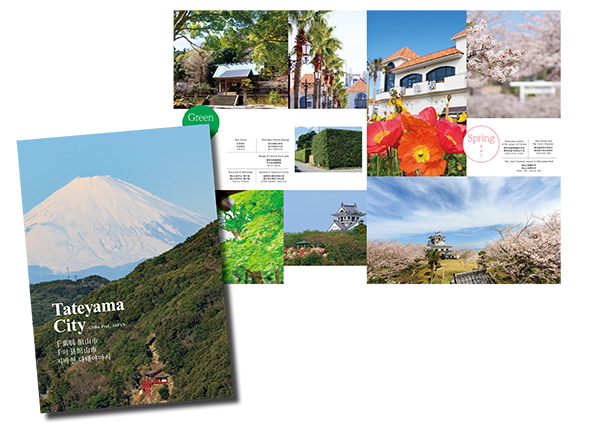 This classification will make easier for foreigners to understand about our city and we introduce the charm of Tateyama by "Four Seasons" and "Color".
【Language】
English, Chinese (Traditional and Simplified), Korean
【Purpose of use】

For attracting foreign tourists etc.
Viewing and Downloading photo data
Please use widely for conducting PR activities outside the city and overseas to attract people to Tateyama City.Image files can be downloaded for free, but the copyright of images belongs to Tateyama City.
Reorganization of content · secondary use is prohibited.
※Please observe the following when using it.
1. Use is limited to the case of Tateyama City's appeal to send charm and image up.
(In that case, copyright notation and use consent are unnecessary)
2. We will prohibit the use of products for criminal / antisocial / public order and morals.
3. It is prohibited to commercialize and sell the image itself.
4. If you use in violation of the above, please stop using it.
5. Tateyama City does not assume any responsibility even if a trouble occurs between the user and the third party.
6. For any further information, please contact the Secretary Public Relations Division.
Viewing and Downloading images (external site)
Tourist Guidebook TATEYAMA
You can download Guidebook from here. (including Map of Tateyama)
Tourist Guidebook TATEYAMA  (PDF, 16.9MB)
Inquiry about This Article

Tateyama City Hall,Crisis Management Department, Citizen Collaboration Division
1145-1 Hojo, Tateyama City, Chiba Prefecture 294-8601, JAPAN
Tel : 0470-22-3142 Fax : 0470-22-8901
E-mail : kyodo@city.tateyama.chiba.jp