Sister Cities
Last Update : April 1, 2021
Bellingham, WA, USA
Bellingham City, Washington States, USA
アメリカ合衆国、ワシントン州、ベリンハム
Bellingham City and Tateyama City became Sister Cities in 1958. This was the 9th Sister City agreement made nationally in Japan, between Japan and the United States. Thus this relationship has a long past, and furthermore this Sister City agreement was the 11th made between Japan and a foreign country nationally. This was also the first Sister City agreement made within Chiba Prefecture. In May 1958, the president of Bellingham's "Port of Bellingham" came to Japan fully invested with the powers from the Mayor of Bellingham to make a Sister City Affiliation with a Japanese City. Through "International Friendship" groups, he made a proposal to Tateyama City to make a Sister City Affiliation. In June the same year a council was held by all of the members of Tateyama City's Assembly, and approval for the affiliation was made. The approval was communicated to Bellingham through the "International Friendship" group. In July the same year (1958), the "Bellingham and Tateyama City Affiliation Association" was formed. On July the 11th at the "Tokyo Industrial Club", the Sister City Affiliation Ceremony was held and the relationship between the two cities was made official and the links were tied. Since then, local Tateyama school and volunteer groups have been continuing visits and exchanges with Bellingham City, including middle and high school student exchanges, and have been further deepening the friendship between the cities through sports, music and traditional culture exchanges. Bellingham has a population of 80,885 (March 2011 estimate)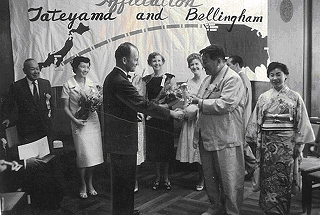 Port Stephens, NSW, Australia
Port Stephens, New South Wales, Australia
オーストラリア、ニューサウスウェールズ州、ポートスティーブンス

Port Stephens is in the state of New South Wales, on the east coast of Australia. Port Stephens is roughly 200 kilometers north from Sydney, and is a very port focused area, facing the Tasman sea. The area is roughly 979 kilometers square, and has a population of 67,825 (June 2010 estimate). The major industry here is tourism, they also have oyster cultivation, fishing, aluminium refinement, and light industries amongst others. From Sydney one can travel to Port Stephens by car in around two and a half hours, and is only 20 minutes from Newcastle.
The relationship between Tateyama and Port Stephens was something that began through the ties Tateyama has with Bellingham. Bellingham City introduced our two cities, and in the 1990 "Pacific Rim Yacht challenge", held in Bellingham, yacht teams from Tateyama and Port Stephens were invited to participate. Furthermore, on November 2nd 2009 a sister city agreement was signed in Tateyama after a successful 10 year relationship as friendship cities. An affirmation signing of said agreement was made during a visit to Port Stephens the following year in February.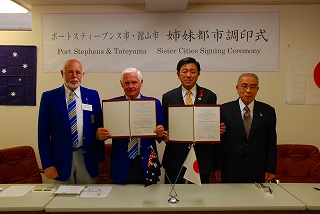 Inquiry about This Article

Tateyama City Hall,Crisis Management Department, Citizen Collaboration Division
1145-1 Hojo, Tateyama City, Chiba Prefecture 294-8601, JAPAN
Tel : 0470-22-3142 Fax : 0470-22-8901
E-mail : kyodo@city.tateyama.chiba.jp